I attended an interesting function today in the Chinatown Mall in Brisbane's Fortitude Valley. It was the unveiling of a commemorative Chinese bell, dedicated to all Australian military service personnel of Chinese heritage, past and present. The bell is 1.41 meters tall and 0.91 metres in diameter. Weighing in at 1080 kilograms, I think it is reasonable to describe it as a big bell. It is engraved with the English and Chinese words of 'Loyalty', 'Courage', 'Sacrifice', Honour', 'Service to the Nation' and 'Lest We Forget'.
I think commemorative projects like this are very valuable. As I've mentioned before, I think being more aware of our own history is important. The long-standing role of people of Chinese background in Australian history is one of many aspects which is not widely acknowledged. It is probably has some extra importance given that Pauline Hanson has announced that she is again going to run for the Senate in Queensland – something I'm more conscious of that most, given that my Senate seat is the one that she would win. Hanson came to national prominence in her first speech to Parliament when she said that Australia "was in danger of being swamped by Asians."
In the context of such comments, it is of particular importance to note the long and varied roles people of Chinese heritage have played in Australia. They have not only been part of the settlement of Brisbane right from the earliest days, but in areas further north, they comprised significant proportions of the community. Indeed, Chinese and other people from south-east Asia had continuing cultural and economic contact with Aboriginal and Torres Strait Islander people in northern Australia well before the British arrived here.
This article from the SMH five years ago about a similar memorial planned for Sydney mentions a figure of around 400 Australian military veterans of Chinese descent, including Billy Sing, recognised as one the top Australian snipers at Gallipoli. You can read more about Billy Sing if you click on this link. I was interested to read it mentions the address of the boarding house in Brisbane's West End where he died in 1943 – just a few blocks from where I once lived.
The ceremony today also made special mention of the New Guinea Volunteer Rifles – the only Australian army militia unit raised, mobilised, fought and disbanded overseas in the Territory of New Guinea during World War II – as a unit, it never set foot on the Australian mainland. Click here to read more on the history on the NGVR.
The unit was centred in Rabaul, which like many other places to the north of Australia, had people of Chinese heritage living there. According to this site, "on the formation of the NGVR in Sep 1939, the Chinese Community of New Guinea were very keen to play a part in it. There was no provision for their enrolment with the Unit. The Regimental Medical Officer (RMO) Maj Norman Bennington WATCH, suggested they form an Auxiliary Stretcher Bearer Unit which could be unofficially attached to NGVR. This was organised early in 1940 under the guidance of the RMO and his most efficient medical WO2 Bob Kennedy MSM. It was a most capable and efficient Unit of about 40 young Chinese Residents of Rabaul."
This photo is from the Australian War Memorial archives, from July 1942.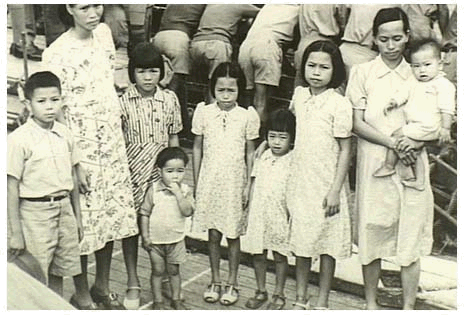 (Australian War Memorial)
It shows Chinese women and children evacuated from Lae (New Guinea), standing on the deck of the ship that carried them to safety. "The Chinese played a vital role in the pre-war economy of New Guinea, dominating the small businesses of its townships (in so far as they existed). While many escaped, and some Chinese men fought alongside NGVR units in the hills, other Chinese stayed behind and were interned by the Japanese."